New!
Murder and Mayhem in the Catskills
| | |
| --- | --- |
| | Everyone knows the Catskill Mountains as an all-year playground. But there is a dark side, too. When The History Press invited Caroline Crane to write a book about that dark side, the result was Murder and Mayhem in the Catskills. It tells the story of Murder, Inc., that deadliest arm of organized crime that left bodies scattered through mountains and lakes. It tells of murders and attempted murders from early Colonial days to the present time. Of domestic murders and weird ones fueled by superstition. Of a wife missing for three years and where she was eventually found. Of a night intruder and his juvenile victim who left a trail of blood across a field. |
| | |
| --- | --- |
| It tells of love and obsession and the unbalanced wife who murdered for her own unbalanced reasons. The men of organized crime are presented here in all their depravity, along with their felonies and their comeuppances. And their prey. There's the drug addict who killed his parents when they tried to help him. And the "Reverend" who killed his followers when they turned against him. Not to mention the bigot "Yankee Jim," whose last blog was a teary self-justification for murder. And the girl who trusted her boyfriend, until he assaulted her own mother. All these events happened in the beautiful, lake-studded Catskills, or in the nearby white granite Shawangunks. | |
A quick look at the table of contents shows us what to expect.
Early Bloodshed

Joseph Brant, the Border Wars and the Revolution
Claudius Smith, Tory Outlaw
"Gross" Hardenburgh
The Unhappy Servant


Strange Murders

Love or Obsession?
The Blacksmith and the Carpenter
Hex Murder at the Stone Arch Bridge
Lethal Lizzie


Bodies in the Catskills

The Saga of Walter Sage
The Bridegroom
The Frenchman
The Cabdriver
The Lime Pit


Murder, Incorporated

Jack "Legs" Diamond
Lepke Buchalter
Jacob Shapiro
Waxey Gordon


Murder, Incorporated, continued

Jacob "Jack" Drucker
Abe Reles
"Dukey" and "Pretty"
Albert "Allie" Tannenbaum
Dutch Schultz and His Hidden Treasure
The Roundup
Joe Bonanno
Joseph Tomasello


Mysterious Remains

The Oldest Courthouse Inhabitant
Only One Bone
Ashes Are Ashes


Murder and Mayhem in the Modern Era

The "Reverend"
A Very Bad Habit
Guest in the Catskills
The Intruder
She Trusted Him
The Iron Fist
A Family Affair
"Yankee Jim"
Done in by a Parachute Cord

Murder and Mayhem in the Catskills is available from Amazon.com and BarnesandNoble.com.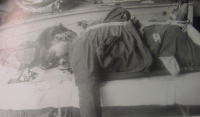 Walter Sage, who tried to cheat the Mob.
(Illustration not in the book.)